Amanda had been swishing around the idea of writing a book and publishing it for a long time, sort of like minty mouthwash that makes you feel clean and fresh. It was but a dormant dream. The rest of us also eyed book writing and publication, but didn't really do much about it.
Nevertheless, the concept of getting our words out there in a printed format continued intriguing and mesmerizing us for years. It was all just a series of habitual daydreams about writing books and publishing them, as we continued writing our masterpieces but not really publishing them to anyone outside our family.
But today is a new day and the creation of the SocciBooks.com website makes our intentions more real and palpable than any airy dreams we've had before. Today is a great day to celebrate the concept of writing "short books," to which we credit to Nina Amir, a coach and nonfiction writer who has published many books and hosts multiple websites dedicated to her nonfiction writing projects.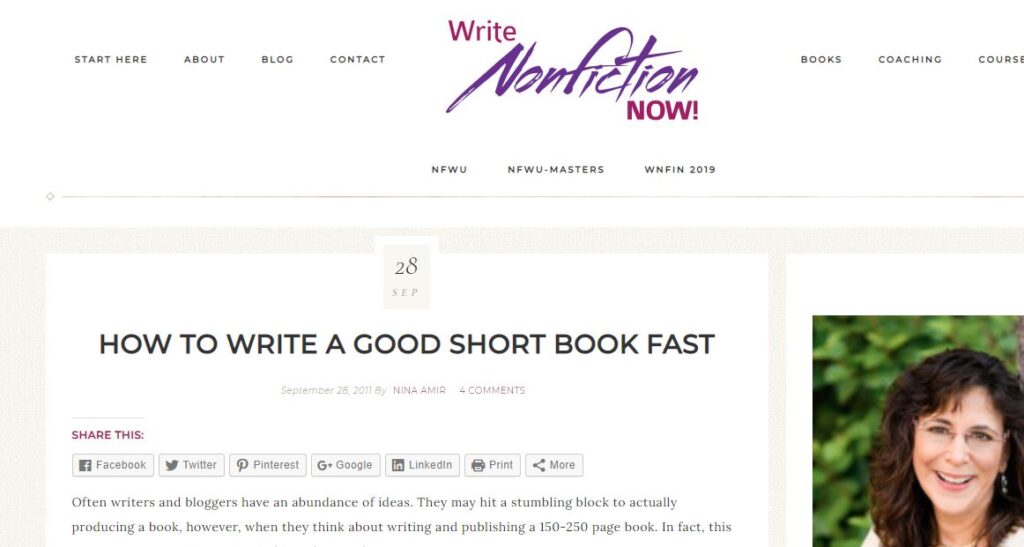 Inspiration to Creation
Back in early 2012, Amanda had been quietly researching a bunch of writing related resources and information on the Internet and happened to find a source that resonated with her immediately. Amanda found a woman from California, Nina Amir, who marketed herself as a coach with a unique title, "Inspiration to Creation" and had a website chock full of helpful information.
The title she chose for herself did not exactly roll off the tongue easily, but it was perfectly memorable and perhaps that was the point. This coach, using plain black-and-white language with no frills, was on a mission to teach people how to gather up the things that inspired them in order to create salable, marketable written publications and information products using that inspiration.
It's important to note that the coach's website, blog, and entire approach was matter-of-fact, straightforward without bells and whistles, and devoid of gimmicks.
If you contrast her website with so much of the junk that is prevalent today, the false claims about making 5 figures quickly and easily by selling junk on Amazon, the ubiquitous and highly annoying master classes taught by rich marketing people who know how to effectively peddle, and anybody, and we mean ANYBODY who writes paragraphs using a series of one or two sentences (look closely and you'll see what we mean),  you will quickly see how the coach's clean, non-sales-pitchy approach attracted Amanda so much.
The main website that would forever change the way Amanda looked at her style of writing was "Write Nonfiction Now." It was so simple, it was perfect. Amanda was already heavily focused on truthful, factual information, and this was one of the very few websites disseminating valuable information to help people stop wishing and start doing the writing right now.
Amanda had the good fortune of working with this coach for a year throughout 2013 on an amazing creative writing project invented by Amanda and published on the coach's blog. That project remains active and viewable on her blog in 2020 and Amanda continues to be honored that her project remains "live" as a testament to her ideas and writing.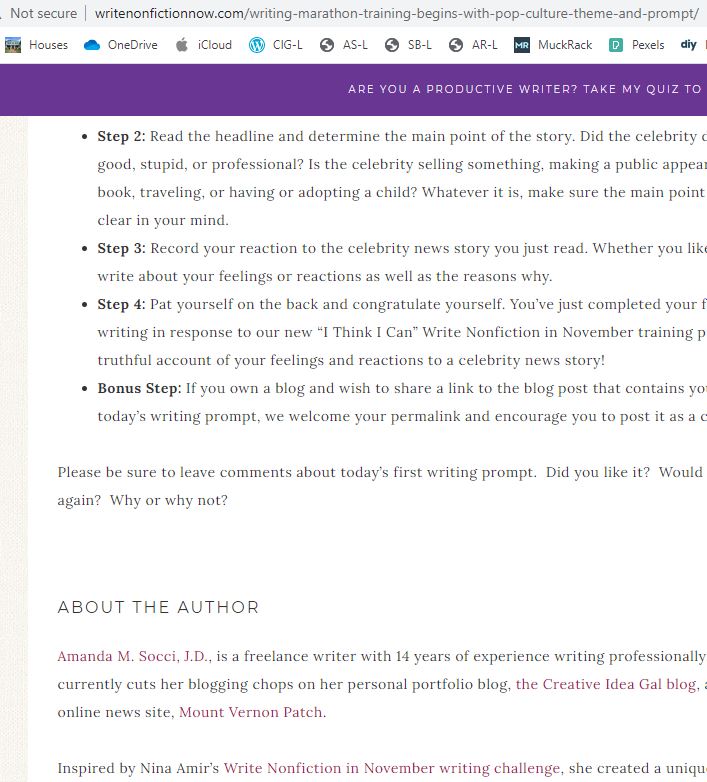 Nina Amir introduces the Concept of Short Books
Throughout the years, Amanda got to know more about this coach and deeply admired so many of the writing concepts she wrote about. It was this coach who first introduced "short books" to nonfiction writers. Amanda read through the description of short books and was astonished with its pure simplicity and genius. Though this coach did not actually invent the concept of short books, she wrote about it and built up a loose definition that was not found through any other source on the Internet.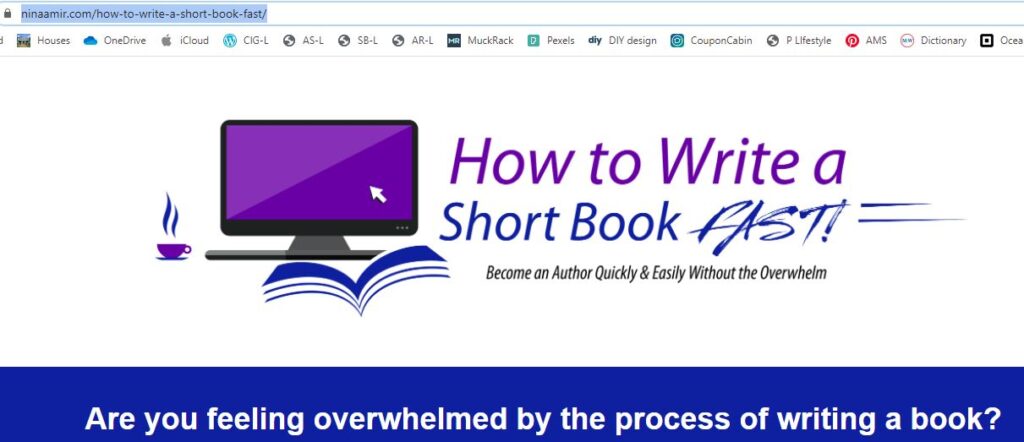 Today, if you research "short books" on the Internet, you will be hard-pressed to find a definition out there, because there is none. To the best of our knowledge and research, this coach is the first person to present the concept of short books as something real that people can do and attempt to formulate somewhat of a definition. Based on what she wrote on her blog, we understand that "short books" are intended to be a vehicle that inspires us to be fast and get our writing out there.
Here was this coach, once again doing her job and inspiring us to create by doing something as easy and straightforward as writing a short book. We are not sure why other writers or writing groups never mention the fact that writing a short book is an attainable goal, but we remain grateful to the coach who quite simply and plainly put it all out there for people to see.
When defining short books, the coach talks about page counts as the measuring stick. Short books may be as short as 50 pages long or they may contain enough information to span up to roughly 250 pages. Anything longer than 250 pages is not considered to be a short book, but a traditional book.
Short books appear to be labeled as such due to their page count. However, some short books are based on word count and not page count. According to the coach in a recent Facebook post in one of the book groups we belong to, short books that have 10,000 words or less are considered to be e-books only and should not be printed.
The coach emphasizes time, speed, and ease in writing short books. She believes anyone and everyone has it within them to produce writing quickly in order to create a short written book, publish it, and become published authors. According to the coach, short books are not intended to be long-form books that are more comprehensive and take a long time to write and publish.
The coach goes on to list examples of short books we can easily write and produce quickly:
blog posts that we wrote and published earlier, recycled into a new written work;
a book that offers tips about a particular subject; or
a how-to book that lists actionable steps on how to do things we already know how to do, as we use our expertise to teach others.
Thanks to this coach's true inspiration to get us to create and her teachings that shorter pieces of writing are formally called "short books" that have publication standards the same as longer, traditionally published books, we have been utterly hooked to short books ever since.
Ironically, Amanda never did write a short book and by standards of publishing, never really published any books (yet), but that is not stopping her from moving forward with thoughtful consideration today. Please stay tuned to upcoming days when we'll make some announcements on some short book projects we're working on.